Quality Individual Riding Lessons
Four Winds offers an individual lesson program for those who do not have a horse in our care. Because we feel it is the quality of the lesson that counts, rather than the amount of time spent, we do not offer set lesson durations. This means that some lessons will be shorter, and some will be longer, but you will learn what the lesson is designed to teach, regardless of duration. We find that in the long run, this approach provides better results with greater satisfaction for the students.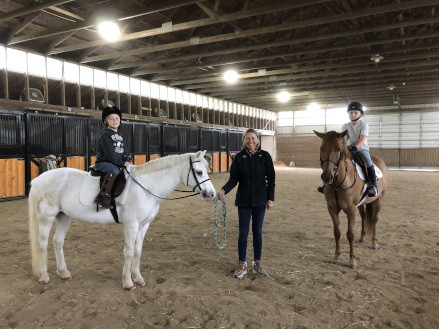 We offer lessons for children or adults whether they are first timers in the saddle, or advanced riders. We prefer to start children at the age of 6, however; special arrangements can be made for those that are younger.
We offer a special Prepaid Lesson Packages. This will include 10 lessons/month prepaid. Unused lessons will not be refunded or carried to the next month, unless special arrangements have been discussed and agreed upon. We will provide a punch card for you to keep track of your lessons. These work as great gifts!!! You have the option of setting up whichever month you would like upon discussion with our instructors and as time permits.
We do not break apart our lessons by private or semi private. We schedule lessons according to what works best for your schedule and ours. Sometimes, you will ride alone, and sometimes you will ride in a group. We feel it is best to give people experience in both ways to better educate their growth in riding.
We will, however; only allow up to 2–3 in our beginner lessons. Our Advanced lessons will have up to 4–5 in those groups.
Please call for current rates for Lessons and Lesson Package Prices.