Horse Boarding & Equine Training Services Tailored to the Needs of Horse & Rider
Four Winds offers a unique Board and Training package tailored to the needs of the individual horse and rider. We include a number of services in order to ensure top-quality care for each horse. We provide these sets of features and guidelines in our rates; however, we will accommodate and coordinate individualized programs for you and your horse.
We like to discuss your needs and what we feel would be best for your horse and structure a program specifically for you. First and foremost, we are able to provide immediate professional care for horses that are injured or ill because of our on-site Four Winds Equine Hospital. In addition, we are capable of providing around-the-clock professional care should it be necessary. Your horses will be spared the stress of transport when they become ill or are injured.
The package also includes:
Two scheduled lessons per week
One professional training ride per week
Tacking up by trained grooms
Longing or round pen work, as needed
Scheduled supervised hacking
Daily turn-out with splint boots and fly sheets or blankets, as needed
Blanketing
Light grooming
Laundry of wraps and pads
Coordinated farrier, veterinary, chiropractic, and dental programs
Feeding of Round bales of hay
Injury or illness care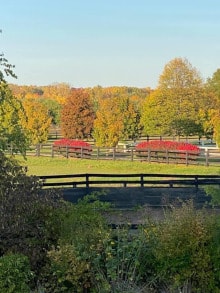 In addition, our package includes (as a convenience for our customers) the use of supplies purchased by the management and kept on hand at the barn, since it is difficult and inefficient for every boarder to have a separate set of these common items. This includes the re-purchase of items in case of loss, misplacement, or destruction. Such supplies include:
Shampoos and conditioners
Brushes
Fly sprays, show sheen, and healthy hair care conditioners
Hoof oils and conditioners
Lead ropes and halters
Longe lines, bitting rigs, and lunge whips
Poultice, hoof packing, and liniments
First aid items
Buckets, sponges, and sweat scrapers
Tack cleaning accessories
Splint boots and bell boots for turnout
Barn cleaning supplies
Please call for current rates.